Research Interests and current projects
Artificial Intelligence is, currently, one of the most investigated field in all the disciplines, due to its impact of human-being advancement. AI field includes a broad set of possible research directions so that, if the final goal is a macro-view of the Big Picture, we need to adopt a multi-disciplinary point of view, that is my approach to research. Artificial Intelligence is not only Machine learning, but also robotics, BCIs, systems, study of the brain. We need to consider both the basic research and the impact on Industry, Finance, and society.
Artificial Intelligence and Empathic A.I.
The concerns about applications in industrial, job, social, economic, legal, health systems need a deep reasoning about protection and regulations, since we are called to figure out how we wish to integrate new artificial intelligent machines in our life. Within the Big Picture, empathy appears as the greatest protection and, at the same time, the great challenge for Artificial Intelligence advancement, that is the reason why my research activities keep into consideration this issue and interdisciplinarity beside basic-research investigation. Also, Explanatory A.I. represents a great challenge and a need because of A.I. applications in everyday life.
AI needs to take into consideration three main components: a system's point of view, studying how adaptive systems and learning agents could replicate, integrate and improve human experience acquisition; an affective engineering approach, enhancing machine to "translate" humans' emotional sphere and empowering the knowledge of human brain; last, but not least, the augmented communication dimension, focusing on human-machine interaction, at the basis of any future development in the technological field and human being progress. Legal and Ethical issues are, of course, the frame of this big picture.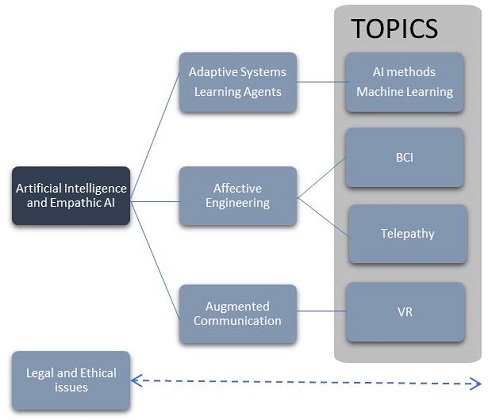 Since 1/10/2018 – present: international applied research project Tourism providers advertising messages evaluation: a multidisciplinary perspective using quantitative-qualitative approach. Research project funded by the Croatian Ministry of Education and Research (Croatia).
Team: Dr. Maja Mamula, University of Rjieka, Econometrics; Dr. Tea Baldigara, University of Rjieka, Econometrics; Dr. Jelena Komšić, University of Rjieka, Econometrics; Dr. Miriam Bait, Università degli Studi di Milano, English Language; Dr. Raffaella Folgieri, Università degli Studi di Milano, Artificial Intelligence.
Since November 2015 – present: Research Director and coordinator at the rehabilitation Institute Gaetano Pini, for the project scientific cooperation for psycho-behavioural attitude in rehabilitation in the physiatry context. Cooperation on the study of cognitive attitudes, through artificial intelligence technologies, as enablers of rehabilitation.
Since 2018 – present: co-coordinator of the research group focused on Digital Competences Development via Personal Meaning Maps Methodology, involving colleagues from the Research Centre "Virtual World of Russian Museum at St. Petersburg State University", from the Faculty of Arts and Faculty of Economics of Saint Petersburg University and from Nankin pedagogical University (China).